Transient Package
The basic T°Imager system generates quasi steady-state thermal imaging of active microelectronic devices, revealing a basic understanding of the device's thermal characteristics. By adding the Transient Package to your T°Imager system, you can capture thermal maps of the device under test (DUT) at incremental steps during its heating and cooling cycles, revealing a more comprehensive picture of its thermal behavior during electrical activation.
The TMX Scientific Transient Package is a turn-key, modular solution for T°Imager systems that captures the effects of heat dissipation beyond thermal equilibrium conditions. The fully integrated system installs in the T°Imager System Rack Station and includes all of the necessary equipment to generate a synchronized device/illumination signal with MHz resolution. The Transient Package's modular design even enables a user to add transient capability to an existing T°Imager system with the addition of a few rack-mounted enclosures.
Select one of TMX Scientific's specially formulated, high-power LED illumination subsystems to synchronize with the DUT's activation cycle as part of the T°Imager Transient Package. Choose between the manual and automated versions of our LED Illuminators for excellent wavelength range as well as pulsing frequency for versatile measurement profiles.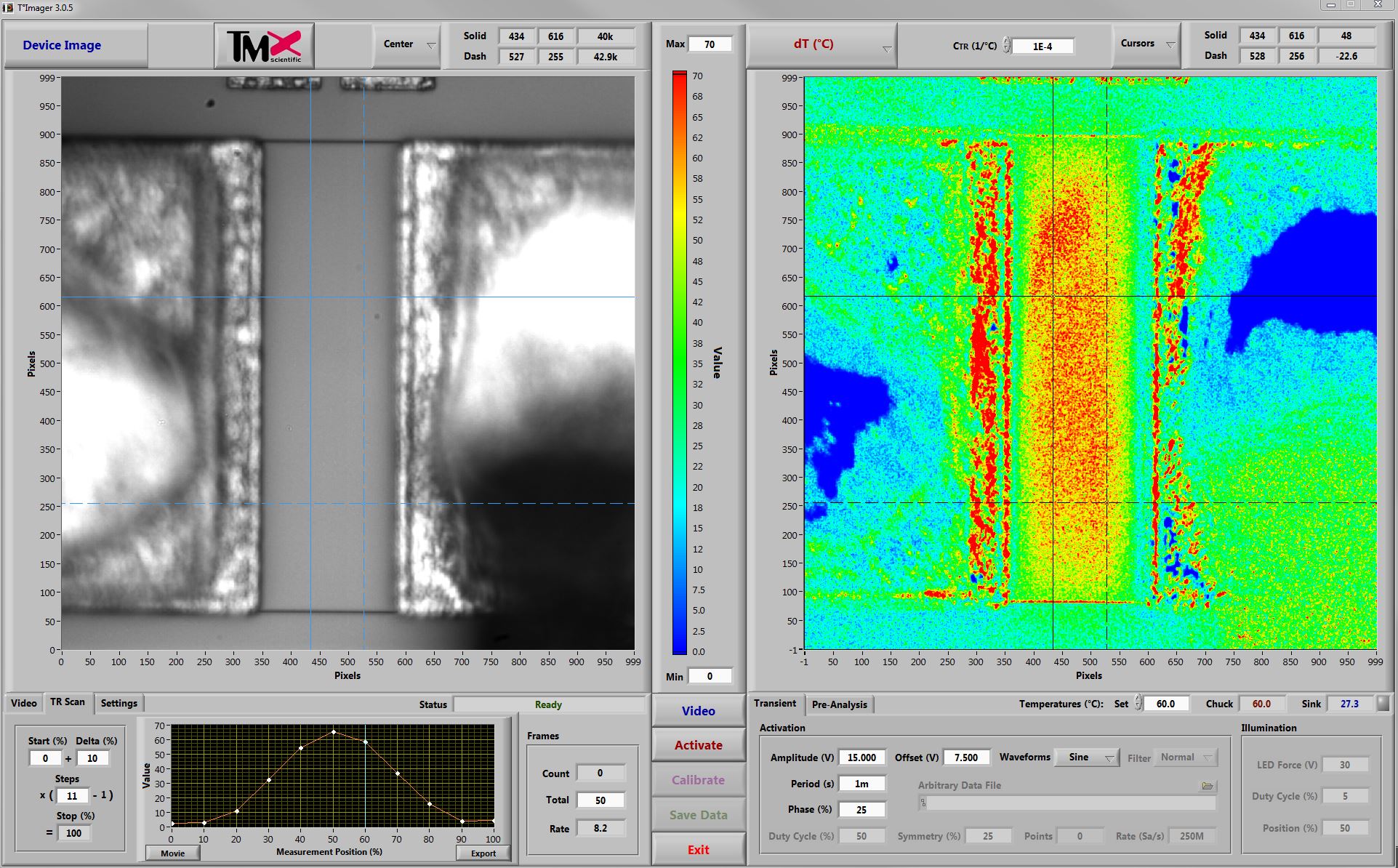 Transient Activation
The T°Imager interface with the Transient Package upgrade provides the tools for a user to define 1) the transient activation parameters, 2) the points in time, and 3) the number of points in time at which the system captures the temperature field within the field of view. The delivered system contains predefined activation functions (sine, square, ramp, and pulse) with fields for user input. The user can also load a user-defined arbitrary function to imitate the device's actual behavior in its final application. The Transient Package hardware can capture the thermal transients of a device at a frequency of up to 1 MHz (1 microsecond).
Benefits
Generate transient temperature maps
Select from predefined activation functions or load a user-defined arbitrary function
Single point or multi-point scan
Turn-key solution: includes all necessary equipment for synchronized device and illumination trigger
Modular design: installs in T°Imager System Rack Station
Easily add to existing T°Imager system
Applications
Quantify device turn-on regime
Capture device rise time
Characterize device transients
Map thermal burnout